dding color to a bathroom—in small accents or large splashes—can have a big design impact
Adding colorful accents to your bathroom when you renovate is a good way to show your own style and personality. These colorful accents can be in the form of vanities, wall paint, and tile.  By selecting your favorite hue and incorporating it into your next bathroom remodel, you can effectively create any mood/vibe you like.
Here's how some Sweeten renovators incorporated colorways outside of neutral making a trip to the bathroom a happy event.
Sweeten matches home renovation projects with vetted general contractors, offering advice, support, and up to $50,000 in renovation financial protection—for free.
Bold in blue bathrooms
Blue comes in all shades, making it a good color choice to accommodate many design styles. Sweeten renovators Katherine and Chris needed more space for their growing family. They found a promising two-bedroom in Park Slope, Brooklyn, that they could transform with the help of a Sweeten contractor. Their contractor overhauled the bathroom and the couple decided to add a splash of color with a dramatic blue vanity and storage closet.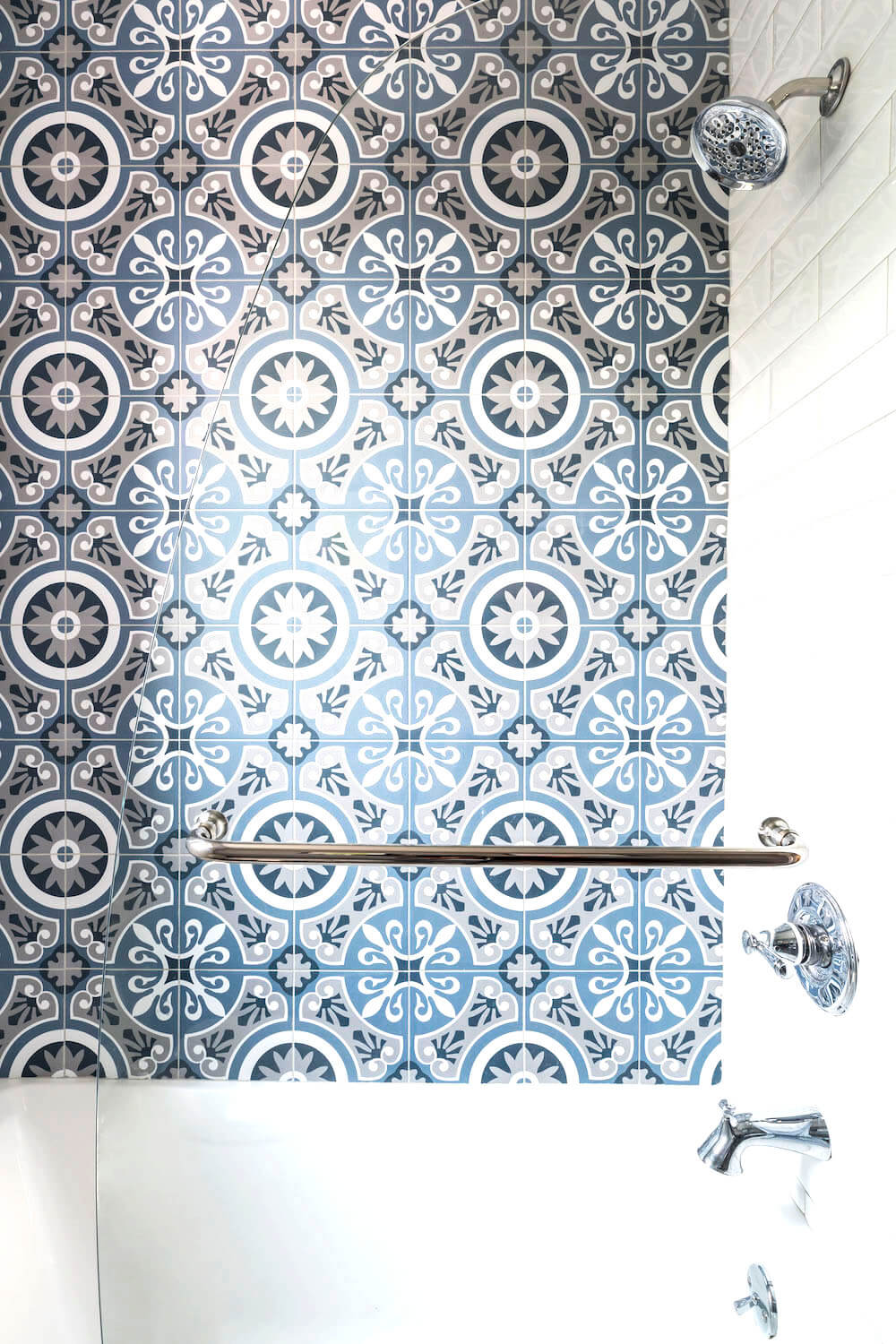 For their 1,800-square-foot full apartment renovation, Dara and Mauricio posted their project scope to Sweeten and found a contractor to update their bathroom. "In terms of style, we tried to reach a middle ground between our preferences," says Mauricio. "I chose a more eclectic style for the second bathroom: gray-and-blue patterned tiles on the floor and shower wall mixed with large white subway tiles."
Peggy and her husband also found themselves in a similar situation in that they couldn't put off a renovation any longer. Except for this couple, there wasn't a new baby on the way: the bathroom was leaky and in bad need of repair. They wanted to stay true to the feel of their circa late-1800s brownstone, so Peggy selected classic design elements, including a blue vanity.
When Kate and Daniel redid their bathroom, they went spent a lot of time researching different styles online and on social media. They went with classic subway tile for the walls and hexagonal tile in a royal blue colorway for the floor.
Greens with envy
With so many different shades of green to choose from, it is no wonder so many renovators are finding it easy to pick the one that suits their style. Brooklyn residents Gus and Katherine (above) used a clever mix of tiles for their bathroom remodel, which includes a herringbone ceramic in Jadite for a statement wall.
Fellow Sweeten renovators Kavi and David also selected an unconventional tile for their bathroom renovation. They replaced a subdued floor with a cement Dandelion tile in Lawn/Milk. These hex tiles with watercolor edges and abstract white lines depict sunburst.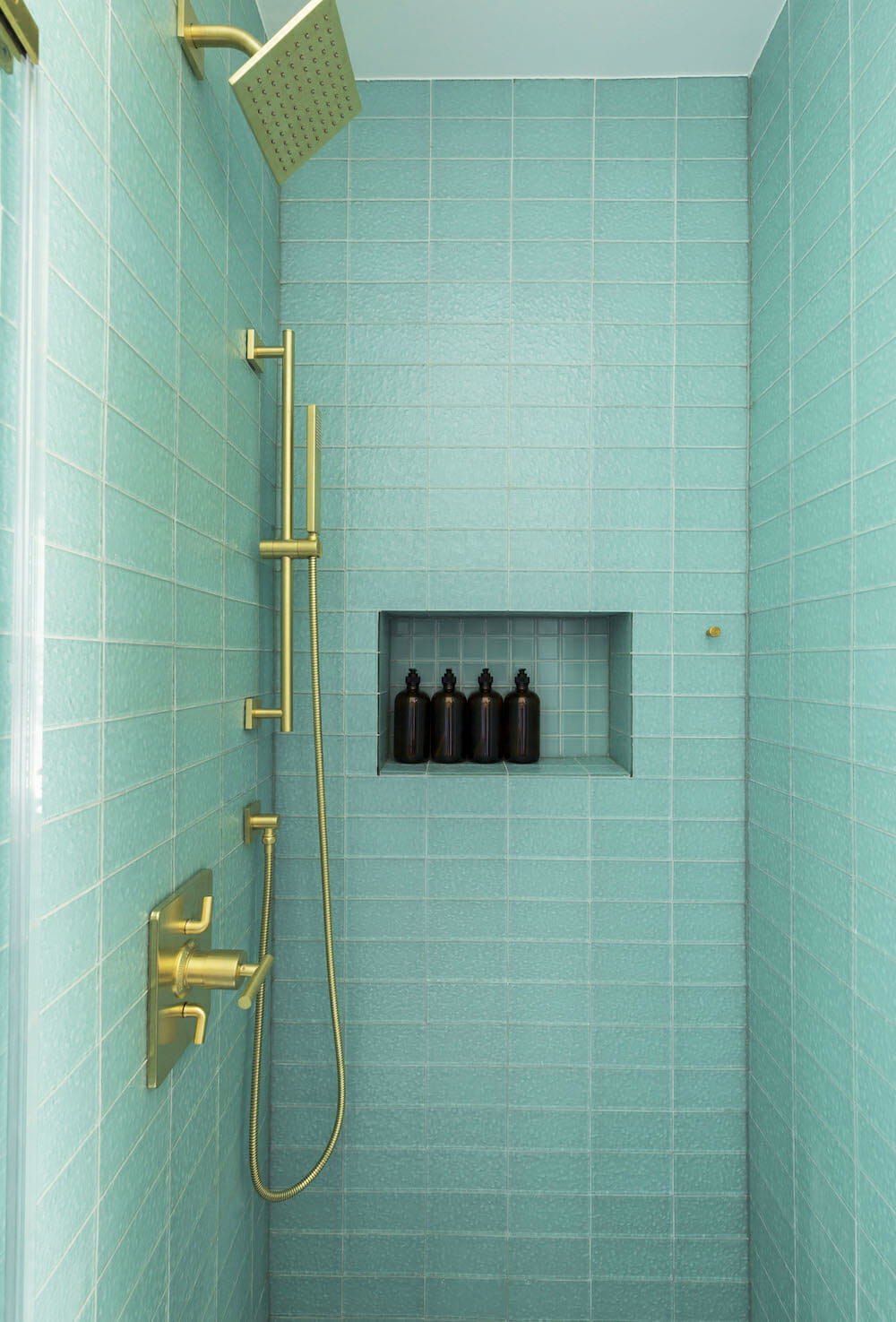 Allyson, an attorney who purchased a 1920s home in East Flatbush, Brooklyn, also used green to make a design statement in her bath. "I really wanted my bathroom to reflect my love of travel and combine vintage and mid-century modern elements," says Allyson. Her Sweeten contractor installed shower tiles in a rich aqua green that features a windblown texture—the idea behind them was to make you feel like you're surrounded by water.
Orange is the new black
These Brooklyn homeowners turned to a Sweeten contractor to remodel their apartment that hadn't been updated since the 1980s. A black color scheme was chosen with a pop of color in the flooring tile. They installed black tile on the wall by the sink, and offset it with a geometric tile on the floor in burnt orange.

Liz and Kevin, residents of Los Angeles, were thrilled with finding a home in SoCal. The catch? The 1923 house had water damage that required the bathroom to be gutted. With the help of a Sweeten contractor, they were able to transform the space into a modern oasis. They took a chance and added a striking backsplash to the sink area. "The orange," Liz said, "felt like a risk, but a little playful, like us."
Back in black

Today, a lot of home design blogs are touting "blue is the new black" or "yellow is the new black." But rest assured black is back—and here to stay. Look no further than Sweeten renovator Veronica's bathroom remodel. She worked with a Sweeten contractor to update her entire bath after she found a leaky pipe in her Manhattan co-op. She was happy to get rid of the outdated beige tile and old jet tub and replace them with more chic options. By painting the walls black, it lends a modern aesthetic to the room. "The bathroom got very little light to begin with, so I decided to embrace the cave-like atmosphere and go dark," Veronica says.

When Alicia and Ed got a new dog, Roxy, they realized they wanted a pet-friendly neighborhood. They found a 1,400-square-foot brownstone in Brooklyn but it needed to be renovated. The bathroom had broken tiles and much of the space was outdated and in need of repair. For the guest bathroom, the couple selected a black-and-white color palette. The result is a classic yet sleek aesthetic.
—
Want to see more? Check out Sweeten's before & after bathroom transformations.
Sweeten handpicks the best general contractors to match each project's location, budget, scope, and style. Follow the blog, Sweeten Stories, for renovation ideas and inspiration and when you're ready to renovate, start your renovation with Sweeten
The post How to Splash a Bath with Color appeared first on Sweeten.
Did you miss our previous article…
https://www.ociaopenhouse.org/?p=1396